[Wholesale] Mini Transparent Ultra Thin Magnetic Wireless Charging Pad for iPhone 12 13 14 Series
Wholesale products do not include shipping.
Fast shipping / Contact us to confirm shipping fee.
If you want to buy more bulk orders, please contact us for the most discounted promotional price. Support customization, design, production in strict accordance with quality standards, and fast delivery to your address.
Description
Premium Wireless Charger Magnetic
Update Design Transparent Wireless Charger:

Metal aluminum shell bottom shell with silver metal edge,Transparent Glass Surface. Slim 2mm than Magsafe Charger. 

Update Magnet: Built In 15pcs 4000gs Magnet Strong Adsorption than Magsafe Charger
Update Cable: Built in 1.5M USB-C Cable More Convenient Charger than Magsafe Charger
Update Color: Black and Silver Color

Magnetic Wireless Charger for iphone 12 13 14 Series Magsafe Charger

Update Magnet Adsorption and Cable Length for protable Charger More Convienent.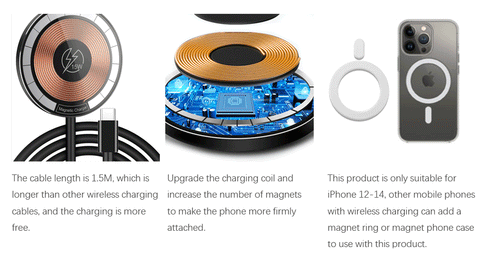 Wholesale Policy
Shipping Policy:
Packages will be shipped from the local warehouse (US CA UK DE AU) or from the production area.
Not customized products: If we do not have stock in our local warehouse, we will contact you to confirm the shipping method and production lead time and delivery date. Usually the package will be dispatched within 1-6 business days after payment is received.
Customized Products: Business staff professionally follow up your order, including logo design, customized products, production and transportation. Follow the business staff to provide you with accurate delivery time.
Warranty Policy:
Please check your order within 72 hours of receipt, and if the item is defective, damaged or received the wrong item, please contact us immediately so we can assess the problem and correct it.
Return and Refund Policy:
For quality-related warranty claims, it will be replaced with a new product. In cases where replacement is not possible or is not an option, FastSinyo will provide a partial refund based on the age of the product.

[Wholesale] Mini Transparent Ultra Thin Magnetic Wireless Charging Pad for iPhone 12 13 14 Series
10 units $8.94 per